Carol Shrieve, Executive Director
Carol Shrieve is the Executive Director of the historic Carnegie of Homestead, overseeing the library, athletic club and music hall located in Munhall, Pennsylvania. A lifelong resident of the Mon Valley, Carol has had 20 years of marketing and manufacturing management experience before transitioning into the nonprofit sector.
Serving on the Board of Trustees for the Carnegie for a couple years lead her to fulfilling an aspiration to better sustain and expand services that meet the needs of the community families she grew up with. Besides "shaking the tin cup 24/7," she is also a member of the American Library Association (ALA), Pennsylvania Library Association (PaLA), Pennsylvania Association of Nonprofit Organizations (PANO), National Independent Venue Association (NIVA) and the Mon Yough Chamber of Commerce.  She was newly appointed to the Jefferson Collaborative Vision Council, serving the South Hills / Mon Valley region of Pittsburgh.  Carol actively partners with Mon Valley municipalities, local, regional and federal legislators, businesses, and foundations to ensure the Carnegie plays a vital role in local economic, educational and social sustainability and growth.
Carol attended the Art Institute of Pittsburgh, Indiana University of Pennsylvania and Penn State University, holds a degree in communications, and business management / leadership certifications. She served on the board of advisors for curriculum development for the former International Design and Technology Academy, and portfolio advisor to graduates for the former Art Institute of Pittsburgh.
In addition to her exhausting — yet exhilarating career, Carol enjoys traveling with her family to explore the many beaches along the east coast.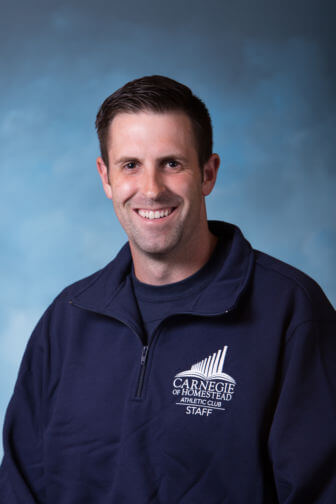 Dan Killinger, Athletic Club Director
Dan Killinger enters his sixth year as The Athletic Club Director at The Carnegie Library of Homestead.  He has a background in sports and has been involved with recreation for over 10 years. In his current position, He oversees the day-to-day operations of the Athletic Club facility. Dan is a native of the South Hills. He graduated from Bethel Park High School in 2006 and then earned his Bachelor's Degree in Sport Administration with a minor in Business Administration, from Indiana University of Pennsylvania. Dan and his family reside in Wexford. In his free time, he enjoys working out, watching tennis and playing volleyball.
Alyson Fisher, President
Alyson H. Fisher is the President of the Carnegie of Homestead Board of Directors. Alyson has been a member of the Board of Directors since 2013 serving as the Secretary for 3 years and the Vice President for 2 years before becoming the President in March of 2019. Prior to becoming a member, Alyson served as a member of the Steel Valley Hall of Fame committee planning the 2008, 2012, and 2016 induction banquets. In addition she serves on the Munhall Community Day planning committee, the worship team at Homeville Christian Church, is a volunteer for the Munhall Red Cross Shelter Team, and coaches Girls on the Run through Magee Women's Hospital. Alyson is a School Counselor for the Steel Valley School District where she services as the Wellness Department Chair, district Crisis Team Coordinator and the Kindergarten Transition Coordinator. She obtained her Bachelor of Arts degree from Westminster College in Psychology and Masters of Education in School Counseling from Slippery Rock University. Alyson resides in Munhall with her husband, Bob and children Allie and Jordan.
Brad Dean
Bradley Dean is a Senior Vice President of PNC Bank employed in the wealth management field and he received MBA and JD degrees from Case Western Reserve University in 1985 and a BS in Industrial Management and Economics from Carnegie Mellon University in 1980. As part of his course work while attending CMU he had an opportunity to tour the Homestead Works of US Steel in 1977 and since that time has maintained a deep interest in the people and the institutions of the Steel Valley. As a result this he became a member of the board of trustees in 2013.
Mike Pearce, Treasurer
Mike Pearce serves at the treasurer for the Board of Directors of the Carnegie of Homestead. He is a relationship Manager VP in Corporate banking at F.N.B Corporation with expertise in banking, credit, and mergers with demonstrated success in helping clients achieve and sustain their financial goals. Mike holds an MBA from Robert Morris University and attended Steel Valley Senior High School.
Andrea Harhai
Andrea Harhai has served on the Carnegie of Homestead Board of Directors since 2016.  Andrea has volunteered her time to assist with the Steel Valley Hall of Fame in 2016 and 2020, Munhall Community Day, and West Homestead Community Day. She is an active member of the West Homestead Planning Commission, Pittsburgh Byzantine Archieparchial Choir, and St. John's Cathedral in Munhall. Andrea is retired from Pittsburgh Public Schools after a fulfilling career as a first-grade teacher for 38 years. She earned her Bachelor of Arts degree in Psychology and Early Childhood from Carlow University, her Masters of Education degree from the University of Pittsburgh, and holds a Reading Specialist Certificate from Duquesne University. Andrea is a life-long resident of West Homestead.
Mark Balistrieri
Mark is a Senior Manager in KPMG's Pittsburgh State and Local tax practice. He has 28 years of experience in managing state and local tax audits for public and privately held clients. Mark came to the firm from the PA Department of Revenue, where he managed the Audit staff in the Southwestern PA region. Prior to that Mark was a Manager with Arthur Andersen LLP in their SALT practice. Mark is a graduate of Penn State University and Bishop Boyle High School in Homestead, PA. Member of PICPA PA State Tax Committee. In addition, Mark is a former member of Marcellus Shale Coalition Tax and Fee Committee, former member of the PA Independent Oil and Gas Association, and the Board President for the Pittsburgh Italian Scholarship Fund.
Lenny Chan, Vice-President
Lenny Chan joined the Carnegie of Homestead Board of Directors in January 2018, and currently serves as the Vice-President.  He previously served on the boards of the Baldwin Borough Public Library and CONTACT Pittsburgh.  Lenny is the chairperson of the Organizational Development committee. He appreciates the history of the Carnegie of Homestead and its position as a community leader in providing quality programs for the region. Lenny has worked for the Division of Student Affairs at Carnegie Mellon University in a variety of roles since 2005. He earned a Bachelor of Science degree in Psychology and a Master of Arts degree in College Student Personnel from Slippery Rock University.  Lenny enjoys reading, history, exploring Pittsburgh and sampling local restaurants. He lives in Squirrel Hill with his partner Jennifer and their rescue dog Finn.
Teri Deal, Secretary
Teri Deal lives in Munhall with her husband, Mike, sons (Benji and Charlie), and Moose, their golden retriever.  The Carnegie of Homestead is one of the family's favorite spots in their community, for live music, the library, and, of course, the swimming pool.  Teri's has a passion for improving the quality, efficiency, and accessibility of social services and currently works as a Principal Court Management Consultant with the National Center for State Courts.  Prior to this role, Teri spent a decade working to improve the juvenile justice system through data collection, analysis, and continuous quality improvement and before that as the Education Coordinator for a non-profit organization.  Teri is a graduate of the University of Pittsburgh and obtained her Masters in Education at the University of Virginia.  She is currently pursuing her Ph.D. in Community Engagement at Point Park University.
Amy Evancho
Amy Evancho is the President of Cardinal Human Capital LLC specializing in workforce development and human resource strategies.  She is the former President and CEO of the Florida Economic Development Council, a statewide economic development organization with 500+ members. Ms. Evancho specializes in budgeting, finance, government relations, including serving on Florida Governor Rick Scott's Transition Team in 2010, working with the Governors' office, House and Senate to further the economic development goals for the state of Florida. Her other experience includes eight years of not-for-profit management, and fundraising. Ms. Evancho is a member of Enterprise Florida's Stakeholder Council; State Liaison/Member of the International Economic Development Council and Southern Economic Development Council; Member of the Florida Chamber Foundation Six Pillars Caucus. She holds a Bachelor of Arts in Communications and a minor in Public Relations from the University of Pittsburgh; Lastly and most important to the Carnegie of Homestead, Ms. Evancho is an inductee of the Greater Steel Valley Pennsylvania Hall of Fame, 2012.
Bethany Chobanian Lang
Bethany Chobanian Lang has served on the Carnegie of Homestead Board of Directors since October 2018. Bethany holds a BFA in Theatre Management from The Theatre School at DePaul University and a Master's of Public Administration from the University of Illinois at Chicago. They are currently a Support Tech Lead at 10up, where they support Google's WordPress plugins. They also have extensive experience working with and empowering nonprofit organizations through web and database services. Bethany was born and raised in the South Hills and resides in Munhall with her rescue dogs Mina, Pavel, and Sarkis.
Joseph Leonello
Joe Leonello grew up in West Homestead and now maintains his business in the area for the past 20 years. Joe holds a Bachelor of Science degree from the University of Pittsburgh (1992) and his a proud graduate of Central Catholic High School (1987). Joe is currently a partner in Franjo Construction where he serves as President.
Dr. Brittany McDonald
Dr. Brittany McDonald is a client and employee experience professional from Pittsburgh with expertise in employee engagement and a passion for volunteerism, stewardship, and CSR. In addition to a PhD in Community Engagement, Brittany also received an MBA in International Business from Point Park University and a Bachelors of Science in Natural Sciences from the University of Pittsburgh.
Her research focused on the impact of Corporate Social Responsibility on Millennial employee engagement. As a Net Impact Tech for Good Fellow she created a mobile app to simplify charitable giving to Pittsburgh non-profit organizations, and founded the Net Impact graduate chapter for Point Park University. Brittany also serves as the President of the Board of Directors of La Escuelita Arcoiris, a Spanish immersion early learning organization. She joined the Carnegie of Homestead board in January 2018.