Collection Development Policy
I. Authority and Purpose of the Policy
Authority for making and adopting regulations regarding the operations of the library is granted to the Board of Directors. In addition, the basis of the materials selection and collection review policy may be found in two codes to which the Board and Director subscribe, the Library Bill of Rights and the Freedom to Read Statement. The library director supervises the selection of materials. The purpose of this policy is to: (a) enable the library director and other staff delegated to select materials toward the stated goals and objectives of the library, developing stronger collections and allocating financial resources wisely and methodically; (b) inform library staff, patrons, administrators, board members and the public as to the scope and character of existing collections, and plans for continuing development; provide guidelines for the allocation of funds to purchase materials.
II. Principals governing the Formulation and Application of the Policy
The development and implementation of all policies of the library must be in harmony with the mission, set forth as follows:
The Carnegie Library of Homestead will provide opportunities for the entire community to access and experience comprehensive information services, quality athletic programs and enriching cultural events.
The Carnegie Library of Homestead will collect, organize, make accessible, disseminate print and non-print resources and guide patrons to meet the following goals:
Meet informational needs of individuals and groups;
Facilitate informal self-education;
Encourage wholesome recreation and constructive use of leisure time;
Support the educational, civic and cultural activities of groups and organizations;
Provide supplementary resources on subjects for which individuals are undertaking formal education.
III. Clientele to Be Served
The Board has adopted the following policy regarding priorities of service and expenditure of funds.
Service Groups
The Carnegie Library of Homestead serves a wide spectrum of age groups with a variety of interests. The library will place emphasis on service to the following segments of the community:
Adults
Recognizing that out-of-school adults comprise the largest single group of users, the library will make its first priority providing for their informational, self-educational and recreational needs.
Preschoolers
The Carnegie Library of Homestead has traditionally assumed a high level of interest in preschoolers. The library will continue to target preschoolers to encourage an appreciation of the library's resources.
Students in Elementary through Secondary Schools
The Carnegie Library of Homestead will cooperate with school libraries in an attempt to not duplicate materials or services. The public library will attempt to respond to general informational, recreational and cultural needs regardless of their relationship to school assignments and will encourage continuous use of the public library.
College and University Students
The Carnegie Library of Homestead will not attempt to meet curricular needs of college and university students, recognizing that academic libraries exist for this purpose alone. The public library will strive to meet non-curricular needs of this age group.
IV. Criteria for Materials Selection and Collection Review
The established criteria for selection, withdrawal and replacement of materials in all non-fiction areas for all age groups are:
Contemporary or permanent value;
Authority, skill, competence, reputation and significance of the author;
Reputation and standards of the publisher;
Professional judgement of the Library Director;
Clarity, accuracy, logic, objectivity and readability;
Social significance;
Comprehensiveness and depth of treatment;
Appropriateness and effectiveness of the medium to the content;
Quality and suitability of the physical format to the library;
Attention of critics and reviewers;
Public demand;
Importance of the subject matter;
Accessibility to the title through indexes and bibliographies;
Price;
Availability of materials elsewhere in the region or through interlibrary
loan;
Potential use;
Budgetary limitations;
Need for duplicate materials in the existing collection;
Space limitations.
Moreover, criteria for selection, withdrawal and replacement of works of imagination—fiction, drama and poetry—also include:
Representations of a significant genre or national culture;
Originality;
Literary quality;
Strength of character or plot;
Sustained interest.
Since libraries are seldom able to examine a work under consideration, the following selection aids are ordinarily used to evaluate a particular title:
The Booklist
Library Journal
New York Times Book Review
School Library Journal
Other sources are also used. Bibliographies and lists prepared by teachers, other libraries and subject authorities are checked. Publishers' and vendors' brochures are also frequently consulted. Public Library Catalog, Fiction Catalog and other standard catalogs are checked in considering replacements.
Selection is an ongoing process which will include the removal of materials no longer appropriate and the replacement of lost, worn and outdated materials still of educational value.
V. Policies by Subject (by Dewey Decimal Classification)
000 Generalities
Bibliographies of certain subjects are purchased when there is a demonstrated need for further resources beyond the library's holdings. They are also used by the staff as buying guides.
Materials relating to library science are selected primarily for the professional development of the staff.
Encyclopedias for general reference and circulation are selected using regular criteria. An attempt is made to replace major titles at least every five years. Encyclopedias on specialized subjects are purchased.
To meet reference needs many titles in continuations will be replaced every year. Others can be used for two or three years without having a negative effect on the quality of service.
When needed, many series are purchased in their entirety; individual series titles may also be selected.
100 Philosophy
The library selects representative materials from all areas included in this classification: metaphysics, knowledge; special philosophical viewpoints; psychology; ethics; ancient, medieval and oriental philosophy; and modern Western philosophy.
In the area of popular philosophy, parapsychology and occultism, public demand is a major consideration in the library's selection.
200 Religion
The library collects on the subjects of the Bible; Christian doctrinal theology; religious orders; the history and denominations of the Christian church; religions of the world; and comparative studies of religions. The tenets of the Library Bill of Rights are carefully adhered to in the interest of providing understanding amongst the members of different religions. Sectarian materials of an inflammatory nature which tend to foster intolerant attitudes are collected only if they have historical or research value.
The personal religious convictions of individuals or groups of staff members will not influence the selection of materials in this area.
300 Social Sciences
The library attempts to provide materials of interest to the general reader on statistics, political science, economics, public administration, social pathology, education, commerce and customs.
As many viewpoints as possible are represented on both controversial and non-controversial subjects. No attempt is made to purchase materials of interest only to specialists.
Popular and standard reference materials are purchased on the subject of law. No attempt is made to purchase encyclopedic or case law.
400 Language
The 400s include general works on language and linguistic in English and other languages. Emphasis is placed on the history, study and use of the English language and a variety of dictionaries are purchased for reference use.
"English to foreign language" and "foreign language to English" dictionaries as well as instructional materials intended for individuals in languages of interest to the community are purchased for the Reference Department of the library.
No recent attempt has been made to purchase either fiction or nonfiction materials in foreign languages.
500 Pure Sciences
The library purchases for the general, non-specialist reader materials written at various levels of difficulty on mathematics, astronomy, physics, chemistry, paleontology, life sciences, botanical sciences and zoological sciences.
No attempt will be made to collect in depth on these subjects for practicing professionals, undergraduate students, graduate students, or researchers.
600 Technology (Applied Sciences)
In the applied sciences the library purchases extremely heavily in some areas and less so in others.
A few basic texts and handbooks are collected in the field of engineering.
The library purchases many titles on farming and gardening, homemaking, pet care and managerial services.
Works dealing with chemical technologies and manufacturing are limited to those recommended specifically for public libraries.
In the field of building skills, including carpentry and heating and ventilation, the library purchases occasionally.
700 The Arts
An attempt is made to provide representative coverage of both major and minor artists, periods and media.
"How to" books in public demand are also included.
For the reference collection, the library purchases frequently in the field of antiques.
A heavy emphasis continues to be placed on handicrafts, sports and recreation.
800 Literature (Belles-lettres)
Essays, poetry, drama, short stories and selected works of criticism on these forms are included, but exhaustive literary criticism on any author is not maintained. Titles on techniques of communication such as professional writing and public speaking are also purchased.
Major preference is given to British and American literatures, but representative work of the literature of other countries are collected to some extent in translation. Some emphasis is also given to the work of the recipients of recognized awards such as the Pulitzer Prize and the National Book Award.
A major criterion for selection from large quantities of drama and poetry published is inclusion in popular indexes.
900 General Geography and History
The library collects works on all periods of history with heavy emphasis on American. Standard, up-to-date travel guides of interest to the community are purchased in small quantity.
Books about local places, events and people are usually acquired.
Political, geographical and historical maps and atlases are collected for reference.
Biographies are routinely collected for well-known persons. A strong emphasis has always been placed on genealogy and local history.
VI. Policies by Format of Material
Books
Hardbacks
Most books selected for the library, especially those considered to be of lasting value, are purchased in hardback.
Paperbacks
Books of ephemeral interest, mainly for recreational reading, are obtained in paperback. Occasionally a title of lasting worth to the collection will be available only in paperback. The subject matter or age level of a book will also make a paperback copy more appropriate.
Textbooks
Textbooks are acquired only if they are the best source of background information or specialized treatment of a subject.
Films, Filmstrips and Videos
The library is a participant in a cooperative grant of rotating video collections. In addition, the library purchases videos of recreational or educational interest to the community. No filmstrips or 16mm films are purchased.
Newspapers
The library subscribes to the Pittsburgh Post-Gazette, Pittsburgh Tribune Review, USA Today and the Wall Street Journal. Local regional newspapers are taken, and donations of other small newspapers are occasionally made. Microfilm files are kept on the Homestead Messenger.
Records, Cassettes and Compact Discs
The library makes no attempt to purchase musical records, cassettes, or CDs at this time. Books on audio cassette are purchased.
Printed Music
The library no longer buys sheet music, although a small collection from previous years remains. Collections of music in book form are purchased. In addition to meeting a need for circulating materials, these books are used for reference questions on the lyrics of popular music.
Pictures
The library occasionally collects pictures for use in vertical files.
Maps
Most maps for reference use are contained in atlases and are not usually purchased separately.
Pamphlets
Inexpensive, ephemeral and timely pamphlets are collected to supplement the regular book collections. They are periodically reevaluated and weeded. Local history pamphlets are also maintained.
Periodicals
Selection criteria for periodicals are the same as for books and other materials. Periodicals are purchased which are important to reference work as well as for general and popular reading. Periodicals taken are indexed in the major periodical indexes held the library.
Manuscripts and Rare Books
The only manuscripts and rare books which have been historically collected are those dealing with local history and specialized history reference needs.
VII. Handling of Complaints Regarding Library Material
A patron who questions any material in the library may register their opinion in writing and the matter will be referred to the Board of Directors.
The library director and the Board's designee shall meet with the complainant to discuss the complaint and attempt to resolve it informally by explaining the philosophy and goals of the public library. If the complaint is not resolved informally, the complainant shall be supplied with a form entitled "Request for Reconsideration of Library Materials" which shall be completed and returned to the President of the Board of Directors before consideration will be given to the complaint.
If the formal request for reconsideration has not been received by the President of the Board of Directors within two weeks, the matter shall be considered closed.
The challenged material(s) will remain a part of the public library throughout the process until a determination has been reached.
Upon receipt of a completed "Request for Reconsideration of Library Materials" form, the President of the Board will convene a committee to consider the complaint. The committee will consist of the Board President, the Vice President of the Board, the Library Director and a person from the community at large. This last individual shall be selected by the Board President to serve on the committee.
In deliberating its decision, the committee will review the criteria for the selection of materials and consider the views of the complainant.
The committee's recommendation will reflect the majority vote of the members.
The committee's final recommendation to the Board of Directors will be to:
a. remove the challenged materials from the public library; or
b. take to removal action; or
c. agree on limitation of the circulation of the material(s).
The decision will be reached through secret ballot. When the committee members do not concur as to the final decision, the Board President as chairperson will submit a report to the Board outlining the areas of agreement and disagreement on the issue.
A letter will be sent to the complainant outlining the committee's final decision. If the complainant is still not satisfied, they may ask the Board President to present an appeal to the Board of Directors which shall make a final determination.
VIII. Review of This Policy
This materials selection and collection review policy should be reviewed annually to ensure that changes in goals and objectives, needs of users and potential users, priorities and budgetary conditions are confronted and reflected in it.
All Allegheny County residents can sign up for a library card at the library circulation desk. Library cards are free, and give you access to wide variety of library materials not just in the Carnegie Library of Homestead, but in all of Allegheny County!
To apply for a library card you must show photo ID. Minors under the age of 18 must be present with a parent or guardian to apply for a library card. The parent or guardian must have photo ID, and must sign and accept financial responsibility for the minor.
Please report lost or stolen library cards immediately. Bring ID to the library and Circulation Desk staff will issue you a new one. There is a $1.00 charge for a new card.
You are not permitted to use another patron's card for internet or borrowing privileges. Your card may be blocked if you are using another patron's card.
Your library card gives you access to:
3,000,000 county-wide items in collection including books, audiobooks, DVDs, CDs, newspapers, magazines (current and back issue)
Access to online databases and applications for eBooks, music, and genealogy
Free computer use
Free internet access and WiFi
Interlibrary Loan
Reference assistance in person, by phone (412-462-3444 x231) or by email
Photocopier (black and white $0.20 per copy plus tax, color $0.65 per copy plus tax)
Prints ($0.20 per page plus tax)
Fax machine, ingoing and outgoing ($1.50 per page)
Microfilm reader and printer
Historical files
Homestead Messenger from 1880 on microfilm
Programs for all ages, including weekly programs in the Children's Room and free computer classes for adults and senior citizens. For information on specific events, please view our calendar.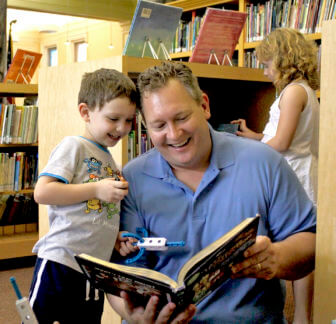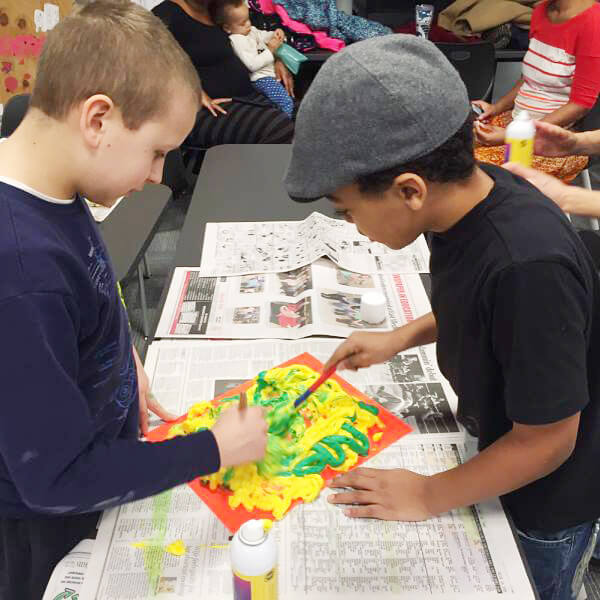 Loan Periods
3 weeks for books, books and music on CD, DVDs, and audio books
Automatic renewal on items that are not on hold for someone else
Reference materials are for in-library use only
As of 2020, Carnegie Library of Homestead is fine-free
Borrower is responsible for the replacement cost of lost or damaged items