Carnegie of Homestead's
Historic Renovation Capital Campaign
The Carnegie of Homestead Music Hall seats 1,047 guests in an intimate atmosphere that has changed very little from the original historical venue. In 2019, 40,000 patrons traveled from throughout Western PA and beyond to enjoy performances by nationally known entertainers. The Music Hall is also a meeting space for civic engagement, naturalization ceremonies, graduations, church events, dance recitals, and other community activities.  Critical infrastructure and accessibility problems have resulted from 120 years of constant public use of the Music Hall.
The Board of Trustees selected experts in historic building renovations MacLachlan Cornelius & Filoni Architects, Inc. to develop a comprehensive assessment plan. The Renovation Study was approved in January 2018 and a Building Renovation 10-Year Plan was developed for the entire Carnegie of Homestead's historic landmark building utilizing a four-phase approach to completing projects as funding becomes available from public and private sources. The purpose of the plan is to replace critical structures and systems with modern upgrades and design solutions to improve patron accessibility, security, and comfort in utilizing all program and service areas of our facility.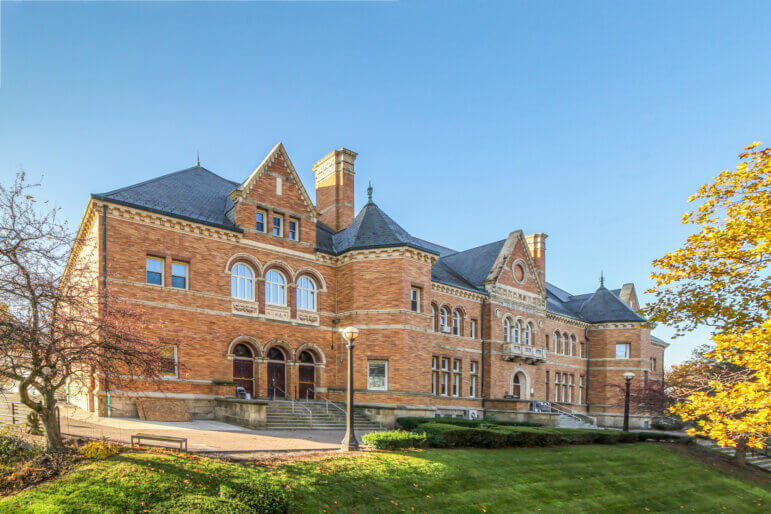 The final architectural design plans were developed for each floor and the first phase of renovations has been completed. In this phase:
One of the grand marble stairways was carefully reconstructed to remove the physical barriers between the Library and Music Hall, allowing wheelchair users to easily move between all areas of the building.
The second marble stairwell was removed to make way for a new wheelchair-accessible elevator – in the Music Hall lobby to further enable one and all to enjoy performances from all levels of the theater. An exterior ADA entrance to the Music Hall has been constructed to match the existing historical features of the front entrances into the building.
The new pool locker rooms and accessible family restroom have been beautifully constructed with up-to-date showers, lockers and changing areas, as well as a wheelchair accessible entrance to the pool. The historical appearance of the design is preserved throughout the upgraded modern amenities.
Because maintaining a safe, clean facility for community families is equally as important as the services we provide them, the building received much-needed electrical upgrades, lower-level plumbing upgrades, a new generator, a new fire pump, fire protection system, and the foundation for new sprinklers throughout the facility.
Watch our virtual ribbon cutting video
You too can play a starring role in the future
of our Carnegie of Homestead's Music Hall
As you know, the Carnegie of Homestead impacts the lives of community families by providing educational, health and wellness, and cultural programs each year. In addition, our Music Hall provides a diverse selection of quality entertainment that enlightens the cultural life of the Mon Valley and its thousands of visitors. The Carnegie of Homestead brings fine arts and entertainment to all, encouraging future generations to reside in the Mon Valley and keep our shopping, restaurant, and entertainment district vibrant.
For over 100 years, our patrons have been dazzled by memorable performances from local schools, churches and legendary entertainers while sitting in the seats of the Carnegie of Homestead's Music Hall. And now, it's time to retire those seats. Private support is critical to funding this project. For a donation of $250, $500, $750, or $1,000, the Carnegie will feature an inscription of your choice on a name plate to be placed on the arm of one or more of the new seats for the life of the chair.
Seat locations will be filled on a first come, first served basis, so name your seat quickly! You can make your gift now or through a pledge payable over a 10-month period. Either way, your investment will help maintain the Carnegie of Homestead's Music Hall as a state-of-the-art facility and world-class performing arts center for years to come.
The Carnegie of Homestead is depending on your support and generosity. Please CLICK HERE to download, print, and return this campaign form to name your seat. Please be assured that your contribution will enable the Carnegie of Homestead to further sustain funding to help families in need of support and resources throughout our community.